BioMedGPS Expands Coverage of Wound Care Market With Launch of US Hemostats & Sealants
Hemostats & Sealants is the latest module added to SmartTRAK Business Intelligence for the Surgical Wound Market.
IRVINE, CA (PRWEB) October 12, 2017
BioMedGPS announces expanded coverage of SmartTRAK Business Intelligence for the Surgical Wound Market with the addition of its newest module, US Hemostats & Sealants.
SmartTRAK's US Market for Hemostats and Sealants module covers the $1.2B market for thrombin hemostats, absorbable hemostats, fibrin sealants, synthetic sealants and biologic sealants used in surgical applications. BioMedGPS estimates the market will grow to $1.6B in 2021E, a CAGR of over 7%. The module provides real time, up-to-date market data, including 5-year market and procedural projections, quarterly revenue tracking, competitive overviews, clinical and regulatory activities and much more.

"Today the market is comprised of 63% hemostats and 37% sealants. Year-to-date, fibrin sealants and recent innovations in absorbable hemostats are leading growth in this market offset by unique challenges in the biologics segment," reports Susan Paquette, Vice President & GM, Wound. SmartTRAK covers all players in the Hemostats & Sealants market, including large dominant firms such as Ethicon, Baxter and CR Bard, as well as emerging firms such as Grifols, Gecko Biomedical and Kuros.

SmartTRAK is an integral resource for some of the largest medical device companies in the world, and is currently used by the top ten orthopedic/spine implant manufacturers and nine of the top ten wound care companies. A key differentiator for SmartTRAK is its team of industry experts who are all former marketing, business development, and competitive intelligence professionals at leading medical device firms.

Please read, with our compliments, an in-depth article by Doug Devens, Sr. Analyst Wound, "Strong Pipeline, Clinical Evidence Fueling Strong Growth in Hemostats and Sealants Market."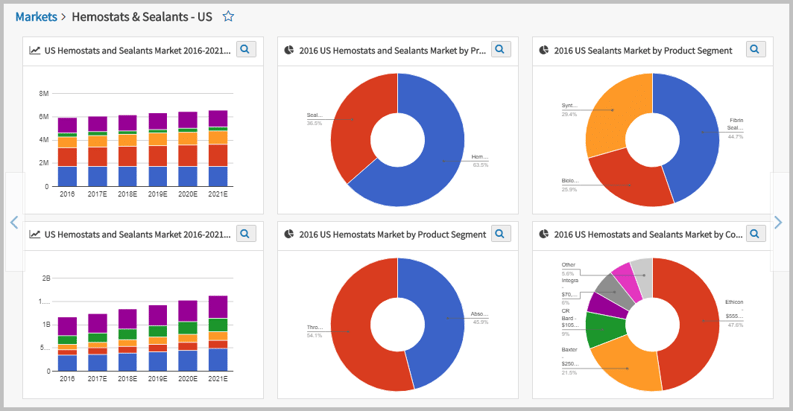 SmartTRAK Hemostat & Sealants Charts and Graphs are presentation ready and just a click away!
About BioMedGPS, LLC
BioMedGPS, LLC, headquartered in Irvine, California, is the developer of SmartTRAK Business Intelligence, and is the leading provider of real-time data and analysis on the life sciences industry. Known for expert analysis and innovative tools, SmartTRAK provides daily updates, strategic insights, and in-depth analyses of the orthopedics, wound care and neuro markets. For more information please visit SmartTRAK.com.