BioMedGPS Announces Coverage of China Advanced Dressings
BioMedGPS expands coverage of the Advanced Wound Care market with the addition of China Advanced Dressings, the newest SmartTRAK Business intelligence module.
IRVINE, CA (PRWEB) October 19, 2017
BioMedGPS announces expanded coverage of SmartTRAK Business Intelligence for Advanced Wound Care with the addition of its newest module, China Advanced Wound Dressings.
BioMedGPS estimates the China Advanced Dressings market will grow from ~$411.0MM in 2017 to ~$599.0MM in 2021, a CAGR of +9.4%. The SmartTRAK China Advanced Dressings module provides an extensive analysis of the market, market shares and estimations of growth projections, by nine different dressing categories, as well as a split of the Foam Dressings market into Silicone and Non-Silicone layered.
"China is one of the fastest growing markets globally, and with over 400 domestic wound care manufacturers, 50 in advanced wound care, is a challenge to master. Historically, domestic companies have focused on cotton-based gauze and tape products, but we now see many high-end manufacturers challenging the multi-nationals," commented Lennart Stadler, Senior Analyst – Wound Care.
China is dominated by global multi-national leaders who have had a long presence in China, including Coloplast, Smith & Nephew and Mölnlycke. Winner Medical is the largest domestic company, offering a wide range of advanced dressings.
China Advanced Wound Dressings also covers Incidence & Prevalence, Regulatory and Reimbursement overviews, as well as company and product profiles, with extra focus on domestic companies who rapidly are moving into more Advanced dressings, like Winner Medical, Top Medical, Zhende Medical, ForYou Medical, UMT Medical, WEGO and 3L Medical Products. To keep subscribers updated on the latest events in the market, SmartTRAK also provides China-specific news updates, distributed daily/weekly via email.
A complimentary summary overview of the China Advanced Dressing Market written by Stadler is available here.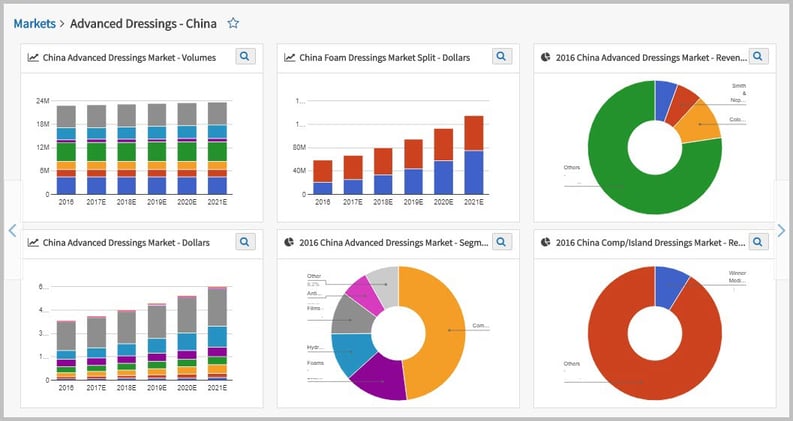 Just a sample of the graphs and charts you get with SmartTRAK China Advanced Dressings Module. Charts are presentation ready and just a click away.
About BioMedGPS, LLC
BioMedGPS, LLC is the developer of SmartTRAK Business Intelligence, the leading portal for real-time data and analysis on the life sciences industry for the orthopedic/spine, wound care, regenerative medicine and neuro therapies markets. Known for expert analysis and innovative tools, SmartTRAK provides daily updates, strategic insights, and in-depth analyses of the orthopedics, wound care, regenerative medicine and neuro therapies markets.

SmartTRAK has become an integral resource for some of the largest medical device companies currently used by the top ten orthopedic/spine implant manufacturers and nine of the top ten wound care companies. A key differentiator for SmartTRAK is its team of industry experts who are all former marketing, business development, and competitive intelligence professionals at leading medical device firms.
For more information about SmartTRAK please visit SmartTRAK.com or contact BioMedGPS.