SmartTRAK 3.0!
Introducing the Latest SmartTRAK!
"I am excited to announce what we've been working on for the past year. We're always striving to be better for our customers. So in 2017, we asked some of our subscribers a simple question. 'How can we better help you?'

And then we listened.

Our users wanted some improved functionality and a more streamlined system. SmartTRAK 3.0 is the culmination of these efforts." – Sharon O'Reilly, President and CEO BioMedGPS LLC

What is New in SmartTRAK 3.0?
BioMedGPS consulted with a usability expert to address user feedback and elevate the SmartTRAK experience. Users can expect the same smart content but with even smarter navigation. The new, cleaner site design prioritizes the most sought after business intelligence, analysis and tools helping users work smarter and more efficiently. SmartTRAK 3.0 has also been completely redesigned for mobile and tablet giving users full access to all competitive intelligence, data, and tools wherever, and however they may be working.

SmartTRAK 3.0 Home Page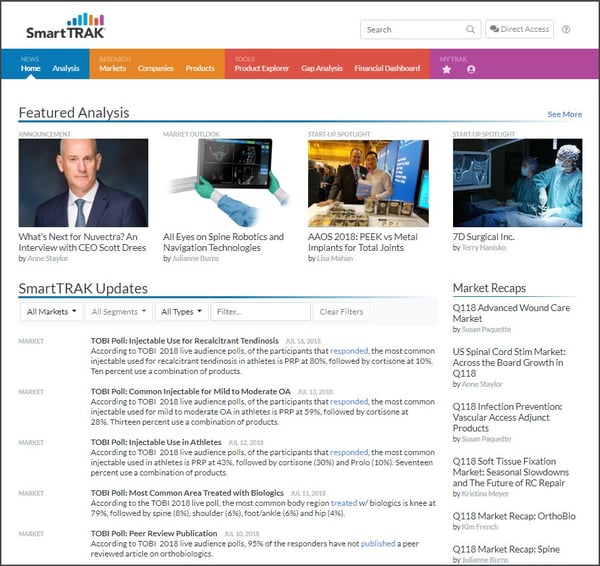 SmartTRAK Featured Customer Testimonial
Scott Brown
Director, Strategic New Market Development, Integra Life Sciences
SmartTRAK News and Analysis
Check out the
SmartTRAK Blog
for more orthopedic, wound care, and neuro therapies industry news and analysis.